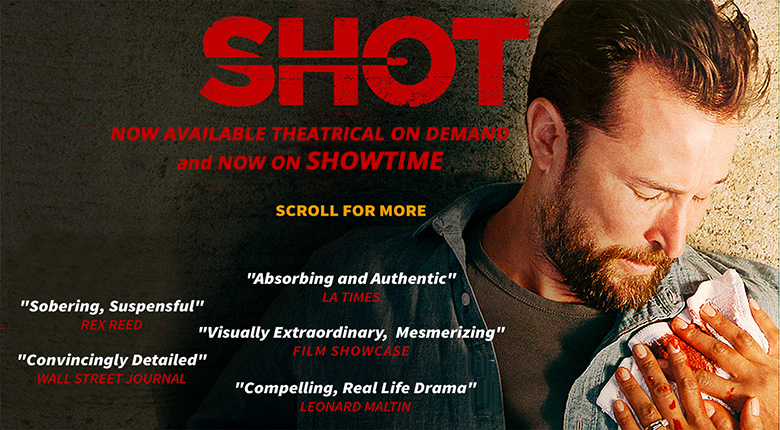 REVIEWS
LOS ANGELES TIMES
Noah Wyle turns patient in the timely gun drama 'Shot' by Gary Goldstein
A strong, empathetic turn by Noah Wyle as a chance shooting victim anchors the absorbing and authentic "Shot," helmed by veteran film and TV director Jeremy Kagan from a script by Will Lamborn and Anneke Campbell (story by Kagan).
This vital tale involves sound mixer Mark (Wyle), who's hit in the chest by a stray bullet while standing on a Los Angeles street with his wife, Phoebe (Sharon Leal). A propulsive, you-are-there journey from ambulance to hospital emergency room follows as paramedics, nurses and physicians furiously work, at times in graphic detail, to keep Mark alive.
Then there's 17-year-old Miguel (Jorge Lendeborg Jr.), a good kid whose first gun, lent him by a cousin for protection from bullies, accidentally fired and struck Mark from afar. The horrified boy can't inform the police, frozen by the potential legal — and familial — consequences.
The third act skips ahead five months where the effects of the shooting's toll on Mark, his unsettled relationship with Phoebe, and the guilt-ridden Miguel converge in poignant and profound ways.
Kagan employs a purposeful, if at times distracting, use of split screen, along with subjective camera and mind's-eye visuals to capture the story's visceral and emotional tension. But it's the fine acting and the film's plea for sensible gun control that carry the day.
---
FILM SHOWCASE
SHOT REVIEW by Gerald Wright
Feature movie and television director, producer, and writer Jeremy Kagan has a long standing accomplished professional career dating back 30 years. In his new feature film project Shot, he weaves a multi-layered narrative that tackles issues of domestic union, oppressed bullying, illegal guns, religion, honesty, and forgiveness.
In this stimulating film starring Noah Wyle as Mark Newman, is a Los Angeles man coping with the strains of everyday life, along with the anxiety of the dissolvement of his marriage to his wife Phoebe (Sharon Leal). As he and Phoebe conclude their lunch encounter, leaving their marraige in a negative balance, and begin to walk down the street, a shot rings out and strikes Mark leaving him severely bleeding on the streets of East Los Angeles. In a frustrated and confused state, Phoebe attempts to help her husband.
While, in the other layer of this anxious narrative, there is a local teenager Miguel (Jorge Lendeborg Jr.), who is a victim of bullying by gang members, receiving the solution of protection -a pistol - from his cousin a block away, accidently fires the weapon hitting Mark. Miguel tucks the gun under his shirt and flees the area once he sees what he has done. In this riverting moment, filmmaker Jeremy Kagan splits the screen to energize the narrative by showing each characterization of frustration and fear by all concerned.
Each scenario from the shooting that plagues this situation is explored thoroughly by the filmmaker. Mark and Phoebe are forced to undergo a resolution concerning their marriage. Noah Wyle brilliantly portrays a man coming to grips with paralysis of his legs. The journey of mental and physical therapy is strenuous, but still remains unresolved. The unresolvement spills over to his relationship with his wife Phoebe, but she stands strong to help him along. It also, gives Mark a startling reality check, as the multi-plots intertwine. Rendering Noah Wyle with a powerful final scene.
Meanwhile, Miguel who is a good kid, who comes from a religious family and seeks spiritual relief from the church is confused and scared. However, fear of turning himself into the police is a dangerous remedy, because he must tell the whole truth about who gave him the weapon. Even his mother knows that this would be the end of Miguel's life if he goes to the hardened gang ridden prison. This also renders Jorge Lendeborg Jr. with a powerful final scene as the plots merge.
This is a serious, multi-plot driven presentation, portraying realistic characters, settings, life situations, and stories involving intense character development and interaction. However, this is not to spotlight the activities of criminal activities, but to examine the collateral damage the criminal activities project. And it does offer the audience an abundance of supense promoting intense excitement, a high level of anticipation, ultra-heightened expection, and uncertainty. While in another theme of this emerging narrative, it is enhanced as a coming of age scenario, as young Miguel, masterfully played by Jorge Lendeborg Jr., shows he has to make an adult decision, in this challenging role of determination.
As this is emotionally impacting in content, it is also a fearless cinematic form of surrealism.
Shot is a visually extaordinary and philosophically provocative stimulating story about the limits of personal and spiritual limits. Using crisp pacing in this multi-dimensional movie, it is convincingly a film that redefines forgiveness. The moral tone is heart-wrenching and the innovated split screen depiction of the characters gives clarity to their excellent performances. This film is shocking yet mesmerizing.....you won't be able to take your eyes away.
---
OBSERVER
Jeremy Kagan's 'Shot' Is a Sobering Plea for Gun Control by Rex Reed
With the number of people shot by illegally-owned guns growing daily, it's refreshing to see a responsible cinematic plea for gun control. Shot is sobering, suspenseful and exemplary.
The always excellent and under-valued Noah Wyle plays a film editor named Mark Newman who, in the midst of trying to save a crumbling marriage and dealing with the pressure of a sudden deadline imposed by a demanding producer, takes a walk with his wife Phoebe (a marvelous Sharon Leal) and pauses on a street corner to discuss the the options of breaking up. Like a lightning bolt, a teenager across the street named Miguel playing with an illegal firearm owned by his cousin, inadvertently pulls the trigger, fires the gun, and Mark is hit in the chest by a single bullet. It's just an accident, but who's going to believe a 17-year-old black kid? A witness calls 911, an army of police cars with sirens howling sweeps down upon the scene, and Miguel panics and runs. The rest of the film tells parallel stories about Mark's fight for life and the boy's fear, confusion, and frustration as he tosses the gun, avoids detection, and tries desperately to find someone to give him the right advice.
Miguel is not a hood, but when his priest counsels him to do the right thing, call the police and tell the truth, his mother forbids him to get involved and his friends and relatives turn their backs on him. His nervous anxiety is contrasted with Mark's point of view from a horizontal position in the ambulance and then on the stretcher that wheels him into the intensive care unit. In a meticulous performance that keeps you on the edge of your seat wondering what you'd do in his place, Wyle shows you how a shooting victim reacts in real life—his trouble breathing, his eyes dilating, the effects of the pain slicing through his naked body on the examining table, and the harrowing surgical procedures that follow. His agony, juxtaposed with his wife's feeling of helplessness and the kid's fright, is unveiled on split screens that involve the viewer with urgency. It's a process that grows annoying, but Noah Wyle is so good as he goes through the stages of pain, rage, remorse and resignation that he keeps you caring and alert. It's all the more interesting because for the first half of the movie the action takes place in real time, forcing you to experience the dramatic mood shifts at the precise moments the characters do.
The stories pick up again five months later, when Mark is in rehab, unable to walk, paralyzed from the waist down, unemployed, and alone in a wheelchair. Sensitively directed by Jeremy Kagan, the carefully calibrated screenplay by Will Lamborn and Anneke Campbell examines every nuance of the tragedy's aftermath—Phoebe's attempts to make Mark's misery more peaceful, the loneliness they endure living separate lives at a time when they need each other most, and, finally, the circumstances that bring perp and victim together for the first time in a scene that is both moving and stunning. Here, at last, the kid (a natural, moment-to-moment performance by Jorge Lendeborg Jr.) and the man whose life has been changed forever by a single shot from his gun meet face to face with unexpected pathos. Shot does all of this and more, without the discomfort of preaching gun control, but what the victim and his shooter do next and how it affects their future has an impact that I predict cannot be easily forgotten—even by the gun lobby.
---
DEADLINE HOLLYWOOD
'Shot': Noah Wyle's Powerful Role As Paralyzed Victim Of Gun Violence by Anita Busch
Deadline talked with Wyle and Kagan about why they wanted to do this film. Based on an original story by Kagan and a screenplay by Anneke Campbell and Will Lamborn, Shot is about Mark Newman (Wyle), a movie sound mixer who is pumping up the volume on a bloody shootout in a Western film and just hours later out is felled by a random bullet while talking to his wife Phoebe (Leal) on the street. While she tries desperately to stop the bleeding, they wait agonizingly for an ambulance to arrive as Mark frantically fights for his life. Meanwhile, hidden behind a fence across the street, teenager Miguel (Lendeborg) watches in horror while holding the still-smoking gun he accidentally misfired.
From the moment the shot rings out, Kagan's camera daringly follows Mark in real time from street to stretcher to gurney to examining table as we watch the paramedics and medical teams in full life-saving mode. The idea is to share the total shock, physical pain, anger, fear, gallows humor and guilt and how all this effects his relationship with his estranged wife. Shot was a passion project for Kagan, who said, "I think this film wanted me to make it."
Kagan said he had the same feeling when he directed the 1981 drama The Chosen, a film based on a bestselling book. The film starred Robby Benson and the late greats Rod Steiger and Maximilian Schell in a story about two Jewish boys — oneHassidic and the other a Zionist — who come to find common ground despite their differences. That film was widely praised by critics.
Kagan told Deadline that for Shot, he thought it was important for the viewer to see what it's like in real time for the person who gets shot. He said that over his long career he filmed scenes where a lot of people would get shot on screen. In fact, the very first TV series he filmed, 1973's Nichols starring James Garner, was about a cowboy sheriff who didn't have a gun and at the end got shot and killed. Then his twin brother (also played by Garner) sought revenge. So audiences got to know the sheriff and fall in love with the character before he died.
Shot is unflinching in its depiction of real gun violence and the physical and mental struggles of its victims. The scenes are visceral and bloody at times. It is not for the faint of heart, but it is one of the best portrayals of what actually happens (Fruitvale Station comes to mind). It is a powerful film. It shows how relationships are affected and even how those in wheelchairs are treated by others with awkward, sideways glances.
Lendeborg — cast in this film before landing the role in Spider-Man: Homecoming — is definitely one to watch and easily could become one of the film industry's leading men.
Kagan won an Emmy for Chicago Hope for the episode Leave of Absence where one of the doctors Alan Birch (portrayed by Peter MacNicol) was shot down by street thugs and how doctors then struggled to save his life. "I've spent time in ER rooms as gunshot wound victims came in. I have seen this. I have seen how the doctors interact and the EMT guys that are there," said Kagan. He also filmed an episode of Taken (for Steven Spielberg) where a young father gets shot but is later cured by his alien daughter.
"In a way, this theme in terms of moviemaking has been constantly around me. About seven years ago is when this started, and I came to realize what an incredible epidemic we have. What occurred to me is that we don't know what it really means in real time to get shot. Maybe it's naive arrogance, but I hope this movie saves a life. And I feel that maybe if someone sees this and was going to get a gun, take their life by suicide, give a gun to someone else, that maybe they would think twice."
Noah Wyle spent 22 days on his back and then in a wheelchair for the role. "I have known Jeremy a long time and have always admired his activist streak and ability to develop great material," Wyle told Deadline. He said he was finishing up the final season of DreamWorks/TNT's Falling Skies in Vancouver and was looking for something that would challenge him as an actor — the kind of role that would "strip your house down. To take your house down to the studs and then you have to build it back up again. I thought the best way to do that was to self-flagellate for 22 days."
He said what interested him about the character was he was a guy who was always conscious of time and juggling many balls in the air during the course of his day, "and then in an instant, none of that matters" when he is hit by a stray bullet. Wyle said that he hopes, the film "could be a validating experience — to see this movie might make it feel more universally understood and make people feel less alone. To know that someone else has also walked this path before them."
Shot releases into ten U.S. cities theatrically on Sept. 22 before being distributed on other platforms.
---
THE WALL STREET JOURNAL
'Shot' Review: Split-Screen Social Drama
The American public hears a lot of statistics about guns, but one that's probably impossible to calculate is the number of firearms that simply go off each year accidentally, the bullet doing no harm only because no one happened to be in the way. It isn't pretty to think about, but you can't help it during "Shot," director Jeremy Kagan's social drama that tells a story--without histrionics, politics or the assigning of guilt--about a gun that just goes off, and changes three lives.
"Shot" certainly has a message, and implies villainy in the universe, but its story is about innocents: Miguel (Jorge Lendeborg Jr.) is bullied at his Los Angeles school, so his cousin Juan (Rafael Cebrián) gets him a pistol, which goes off almost as soon as Miguel touches it. The bullet, with cruel randomness, ends up in the chest of Mark Newman (Noah Wyle), a movie soundman who has just had coffee nearby with his soon-to-be ex-wife, Phoebe (Sharon Leal). The process of saving his life is under way.
Best known for "Heroes" and "The Chosen," Mr. Kagan is a professor at the USC film school, and his latest movie is a tutorial in technique, including split screen: Not many films have used it very effectively--"Woodstock" comes to mind, as do "Annie Hall," "Requiem for a Dream" and Mike Figgis's "Timecode," which used four screens. But "Shot" is one of the better examples of how to use it, and when: While Miguel agonizes with guilt on one side of the screen, Mark agonizes with pain on the other, as he's moved through the elaborate series of transportation, medication and implantation that a gunshot victim goes through in an L.A. hospital, especially a gunshot victim with medical coverage. ("Is now a good time to talk about insurance?" asks a hospital administrator, barging into the ER at precisely the wrong time.)
The split screen has a downside: It punctuates the lopsidedness of the script by Anneke Campbell and Will Lamborn, Miguel's story being far less convincingly written than Mark's. To be fair, the emergency-room scenes--wonderfully atmospheric, convincingly detailed, rich in gallows humor and bickering nurses--are among the more realistic portrayals of an ER this viewer has ever seen. Xander Berkeley plays the doctor you want, especially if you're Mark and have a bullet in your chest. And Mr. Wyle makes you feel his pain.
---
AMERICAN CINEMATOGRAPHER
Creative Perspectives For Shot by David E. Williams
Jacek Laskus, ASC, PSC details his visual approach to this indie drama depicting how gun violence impacts lives.
In veteran director Jeremy Kagan's new feature Shot, the life of an average man, Mark (Noah Wyle), is disrupted when the accidental discharge of an illegal firearm results in a life-threatening injury — also forever altering the lives of his estranged wife, Phoebe (Sharon Leal), and Miguel (Jorge Lendeborg Jr.), the young teen responsible for his plight.
Largely taking place in real time, the story depicts the physical trauma and emotional desperation of this tragedy as first responders, doctors and nurses struggle to save Mark's life, and then jumps ahead to see how the three characters again converge to deal with a complex aftermath fueled by guilt, anger and fear.
Working on location in Los Angeles, the picture was photographed by Jacek Laskus, ASC, PSC, whose other feature credits include The Devil's Arithmetic, The Whole Shebang and Multiple Sarcasms while his television work includes The Caine Mutiny Court Marshal, The Guardian, and Masters of Science Fiction. He is also an accomplished documentary cameraman, with credits including Choke, Stand, The Human Face of Big Data and the upcoming Viva Verdi.
Here, Laskus discusses the origin of the project with Kagan, its unique use of character and perspective and his production approach.
American Cinematographer: How did this project originally come to your attention?
Jacek Laskus: I'd met the director, Jeremy Kagan, on a series I did called The Guardian. He directed two episodes and I really enjoyed working with him. He brought this je ne sais quoi while directing both episodes. When you're working on a series and have shot so many episodes, it becomes routine, but Jeremy came in and gave everything a little twist, and that caught my attention. We kept in touch (we used to live on the same street) and he hired me to do another project with him directing [Golda's Balcony]. Then he mentioned this idea for this film — he wanted to do something on the subject of gun violence and, in 2015, Noah Wyle was attached to the project. As Jeremy put together the financing, we kept talking and the script went through several changes, as Noah asked for more complex film. I think the strategy became to do a film that addresses gun violence but not feel so much like a "theme" film — more of a drama rather than an issue film. That's what I also felt, that if you care for the character you're watching on screen who has just been shot, you'll really feel for him. And the drama keeps you engaged, as opposed to just citing statistics on gun violence and all that stuff. Noah really helped bring a strong character to the film. Second act takes place in an ER room, so we couldn't have a better actor [laughs]. For me, that portion of the project was a primary creative challenge, as he's lying flat on his back on an operating table during that whole time. All 45 minutes of the movie, that's where he is. That section is mostly in split screen with the character of Miguel, who fired the gun.
What were your discussions and how did you devise a visual solution for this?
First of all, Jeremy determined that this portion of the picture should have only four points of view. So we would never be with a camera from any other angle than those four points of view. First is looking at Mark — medium, medium close, very close — and second is what he sees from his point of view, which gives us ability to do wider shots and maybe a little tighter, but still only from his point of view. Then we have the perspective of his wife, Phoebe, and looking at her. So those are the four angles we would have — no God's angle, and that brought a certain discipline to shooting. We shot with two cameras, both Alexas; one Mini and another one the regular, and the Mini was very good for point of view because we actually could put the camera handheld next to Noah's head, right over his shoulder. At first, Jeremy wanted to experiment with using small, helmet-mounted cameras to achieve this, and we discussed the idea with Radiant Images. There were a lot of tests and we found several primary issues with it: First, the camera on the actor's head becomes very heavy. Second, the actor cannot actually see what the camera sees, and, finally, you can't pull focus, because those kinds of cameras are not designed to do that so you're losing a certain visual language because you can't control what is and is not in focus. That's how you can depict the emotion of the characters. I wanted to help control that through my choice of lenses. We could have not control that with the helmet cameras.
And this control of depth of field was especially important to create emphasis as you were so limited in angles due to your perspective approach.
Exactly. So the first act of the film — which is relatively traditional from a photographic perspective — is our introduction to all three characters, a backdrop story between Mark and Phoebe, an introduction to Miguel, and then the accidental shooting takes place, beginning the second act from their perspectives. The way the script was written, there were certain story elements designed specifically to happen at the same time, for example, as Mark is transported to the hospital in an ambulance. In our frame, we have him, but also Miguel, who shot him, as he's hiding in the basement of a nearby house. Both characters are seen in these closed environments and the elements had to be composed in a way that would work together on screen. That meant we had to figure out very precisely what images would be going where and what the transitions between them would be.
Were these split-screens compositions designed beforehand or storyboarded out?
Jeremy did work with a storyboard artist, but we made sure our coverage would allow the shots to connect in the edit, generally by framing far left or far right. Jeremy also used the soundtrack to guide the audience through these sequences, helping them understand which was the main image to focus on and which was the secondary. Our aspect ratio helped us in that regard. At first, I actually wanted to shoot the picture in black-and-white and 1.66:1, but that got voted down [laughs], so we shot 1.85:1 with a kind of desaturated look for much of the film. But then, as Mark is shot, the camera spins with him as he hits the sidewalk, and the frame opens up into a widescreen 2.40:1 image, which helped us with the split-screen work because we had a little more room.
While shooting his POVs from the gurney in the ER, you didn't use any kind of mounts? You just did handheld with the camera next to him?
Yes, the Mini right next to him, or our operator just laying down in his place. Looking down on him, we did use a crane. We were shooting this ER segment for about two weeks at the USC Medical Center in Los Angeles — the entire show was L.A.-based — which has a fully-equipped section designated for training medical personnel but was also available for our production. [Kagan is a tenured professor at USC.] That was another challenge because initially I thought that we would build sets and I'd be able to control the color of the walls and all that stuff — that I would be able to bring more contrast that way. But when we decided to use this location, we no longer had that kind of production design and art direction control, so I had to instead rely on lighting to make the space more interesting and help the audience feel the different environments. Otherwise it would all seem like a single room and could feel claustrophobic. So I decided to divide our location into three different color zones, with the ER area being the brightest part. That was going to be basically white. Outside that space, we didn't change out the fluorescents and added plus green gels, allowing for a separation of spaces. Then, as Mark travels through the hospital for an MRI, the light changes color from green to blue to a kind of orange. He's only semi-conscious at this point and has no idea where he really is, so I wanted this to be kind of a journey through muted colors.
Did you have to do much testing with different lenses for Mark's point of view from the gurney?
We did the whole day of shooting with different cameras and lenses. But I always was going to be shooting on primes – either like 21mm or 24mm, maybe up to 40mm. Very rarely we went longer than that. We ended up with Cooke S4s.
In the first and third portions of the film, did you at all purposefully avoid point-of-view shots in order to create extra emphasis for this visual approach in act two?
Not quite so consciously, but in the first act, we tried to use a more classical, European style — not too stylized or fancy, more natural yet careful and controlled. Before we started shooting, Jeremy and I looked at some French New Wave movies. A lot of them are like "everyday life" in a way, a portrait of everyday life, and not intrusive. In the third act, our reference was Kubrick. We wanted everything to be very precise, and how the actors moved in that frame was very important — maintaining the balance of the compositions. The frame had to be clean, kind of emptied and void. That part of the film is in Noah's character, the way I understand he's really pissed off, having pushed down all his anger. Mark now exists in this very empty world, and even his home reflects that. It's bare and stark, nothing hanging on the walls. The only thing that comes out is his need to connect with the wife again, and the frustration because of his disability — he's in a wheelchair. About the only thing I did overtly was put the red shades in one room while the bedroom was always dark and bluish. So it was this kind of a place where he would hide, you know. We used a lot of wide angle lenses and very precise camera movement for that portion of the film, and the colors were much more saturated.
This might be a strange question but in the context of this story, I would imagine that red, the color of blood would be something to treat with special care?
It was. And the red accentuated in a very subtle way because it's seen mostly in that white operating room — white light, white sheets — and that contrast worked well. And since the story is being experienced from those specific points of view, the effect is shocking. It's very messy, and at one point his blood is all over the floor and the nurses are kind of wiping it up and so there's this emotional connection to it. That's Mark's life spilling out. The red shades we later see in his house were there for us to be reminded of the color of the blood.
What can you tell me about Jeremy Kagan's directorial approach?
He believes in rehearsal. Jeremy would rehearse for an hour just with actors, then he would bring me in and the operator, and he would rehearse another hour with the two of us watching, and then I would light it. After we would shoot for like three and a half hours, and we were done with the scene before lunch. We shot about four pages a day, each scene had a very long rehearsal. Jeremy is one of those directors who comes to the set extremely prepared. He knows what he needs. He knows exactly for which part of the scene he's going to use certain shots. So it's very easy to shoot because he knows exactly how it is going to appear on screen. I think he spent five years working on the movie, spent time at all the locations — we went together several times to possible locations with his iPhone, shooting stills and video, trying to understand how to best use each space.
The classic example of especially smaller, independent films, which is you often have the time but not the money. And so to make the most of your money, you spend the time and it sounds like you really spent the time.
We spent enormous amount of time in conversations and looking at the locations. Jeremy became very attached to certain locations. I sometimes had to drag him out, saying, "Jeremy what you see here is not how it is going to photograph." You know, it's dark, it's green, it's narrow —It's not going to look good. I had to help him to translate how a location was going to photograph.
It's so sad to hear you describe a very logical and reasonable method of using rehearsal time, because, these days, it seems that it is a very misunderstood and disrespected aspect of production.
It is. But it's during rehearsals that the scene shapes and evolves. You start to see the actors trying to connect, find their places, their motivations, the director, who says, "Okay, we want this to happen maybe a little earlier." It's a beautiful process, all coming from what's written, how the scene is then shaped. Using rehearsal time correctly, the scene is shaped on the set and not covered in multiple ways that can be shaped in the editing room. In my opinion, it becomes more of a director's vision. It brings certain decisions, and you might be thinking, "I'm taking a risk," but then you realize that they pay off — you learn to actually you trust your intuition as a filmmaker and realize that you're professional enough to know when you're on the right creative path. You learn to know when you set up something and it doesn't work that no matter how many shots you have, you still won't be able to "fix it" in the editing room. The other thing I find beautiful in the rehearsal is that you suddenly understand the scene better as a cinematographer, as a filmmaker. You'll know what you need to cover in wide shot, what you need to cover in a close-up and where you need an insert, because it's coming out of that rehearsal – if you pay attention to what the actor is doing and what the director is doing, you'll see the rhythm of the scene and for you as a cinematographer how to emphasize and preserve that scene and the rhythm. Without that understanding, you're just collecting shots.
It's so misunderstood in part because there's this production pressure to just be shooting all the time.
I find that approach very demoralizing to the crew. When they see you very specifically doing your work and saying, "Okay, we're gonna do this shot and we're gonna cover this," they understand you have a point of view and there gives clear meaning behind their work, whether is setting up the dolly or setting the lights. And when you have a crew that takes pride of ownership in your creative process, it's a real pleasure.
---
RABBI STEPHEN ROBBINS
"SHOT is the most honest and direct re-enactment of the real experience of being wounded, traumatized in pain, on the edge of death and returning, and dealing with the crippling disability, not just in body, but in mind and spirit, that happens when you are rendered helpless.  I can speak about this so passionately because it has happened to me.  I  live in the constant pain similar to being shot, level 10.
 
There is a resolution leaning how to live both with the pain and the disability until the pain goes away or ceases to be central and the disability becomes a strength not a weakness, and you face the challenge of being on the edge of death and dysfunction, helplessness and returning by choosing to no longer be a victim.  And that's the resolution at the end of the movie.  The character Noah Wyle plays is on the edge of becoming of a shooter and now he wants to shoot intentionally for revenge. And in the closing scene what he comes to is the realization that a shot never solves anything, it only continues the cycle of pain and disability.  

He chooses to no longer be a victim in that wonderful last line of the movie.
 
And he at that moment forgives the shooter and makes connection, attachment, bonding with the person not the shooter.  He becomes the person who now transcends the pain. Going through the split screen is wonderful.  Be fascinating to have people who have been shot and those who have shot watch the movie together.
 
It is a model for all who have gone through trauma, which all of have, and to live with the re-emergence of the trauma, the loss, the anger, disability and can not find our way free of it – and this film becomes away for us to enter the pain and disability we live with, and gives us the beginning of a pathway out so we can live free healed from this post traumatic reality that we all live with and go on to live meaningful lives. 
The multiple screens is an experience being able to shift back and forth as the characters mirror each other in the things they are going through. so like when the kid is hiding under the house he is in his deepest disassociation, withdrawn inside, terrified as we see at the same time the EMTs working on the character Noah Wyle plays, trying to save him.
 
It's not a journey into darkness, it's a journey into illumination. What I say to people who I treat with trauma is the one simple statement: "You already survived it.  Don't you realize, you are here.  Its over.  The most important phrase is not, here I am, it's here am I.  The central core of my being-ness, my consciousness.  What that is – I am present , completely and totally now, I am no longer living in the trauma of the past."