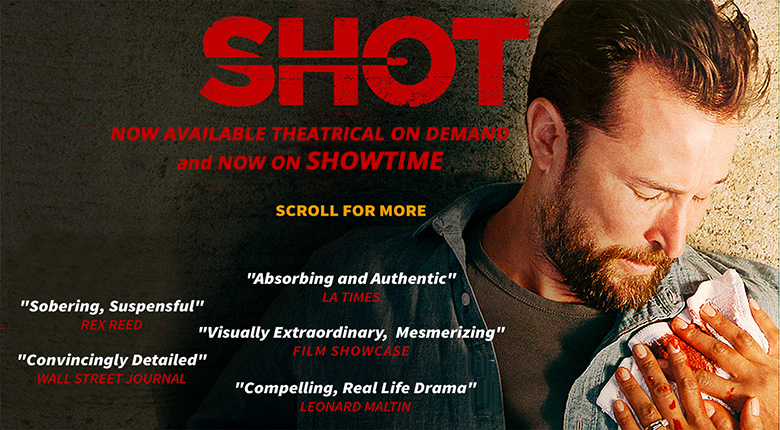 Transformative Media
and
Great Point Media
In Association with
Outside The Box Motion Pictures
and
Deliberate Content
present
SHOT
Directed and Produced by
Jeremy Kagan
CAST
MARK - Noah Wyle
PHOEBE - Sharon Leal
MIGUEL - Jorge Lendeborg, Jr.
DOCTOR ROBERTS - Xander Berkeley
NURSE MARCI - Elaine Hendrix
EMT TURNER - Malcolm-Jamal Warner
Screenplay by
William Lamborn
Anneke Campbell
Story by Jeremy Kagan
Produced by
Dave O'Brien, p.g.a
Josh Siegel, p.g.a.
Executive Producer
Noah Wyle
Jonathan Kagan
Anneke Campbell
Robert Halmi
Jonathan Kagan
Jim Reeve
Kurt Fethke
Alan Pao
Jerry Offsay
A FILM BY JEREMY KAGAN
Starring:
Noah Wyle
Sharon Leal
Jorge Lendeborg, Jr.
Xander Berkeley
Elaine Hendrix
Joy Osmanski
Eve Kagan
Malcolm-Jamal Warner
Dominic Colon
Tommy Day Carey
Rafael Cebrian
Brad Lee Wind
Casting by Kerry Barden and Paul Schnee
Director of Photography
Jacek Laskus, ASC
Production Designer
Chuck Parker
Editor
Norman Hollyn, ACE
Composer
Bruce Broughton
Executive Music Producer
Joel Sill
Line Producer
Ric Smith
Co - Producer
John Raatz
First Assistant Director Billy Greenfield
Second Assistant Director Josh Stickler
Second Second AD Anneke Scott & Amanda Carrara
| | |
| --- | --- |
| Mark | Noah Wyle |
| Phoebe | Sharon Leal |
| Miguel | Jorge Lendeborg, Jr. |
| Nurse Gina | Eve Kagan |
| Nurse Samantha | Joy Osmanski |
| Nurse Marci | Elaine Hendrix |
| Dr. Roberts | Xander Berkeley |
| Dr. Fisher | Sarah Clarke |
| EMT Jones | Malcolm-Jamal Warner |
| EMT Garcia | Domonic Colon |
| EMT Turner | Tommy Day Carey |
| Dr. Schiabarassi | Peter Banifaz |
| Officer Anderson | Brad Lee Wind |
| Officer Ramirez | Maria Russell |
| Anita | Cher Ferreyra |
| Juan | Rafael Cebrian |
| Jose | Peter Cortes |
| Rosa | Veronica Sixtos |
| Latino Youth | Mario Orozco |
| XRay Tech | John Ciccolini |
| Cat Scan Tech | Chris Copolla |
| Accounting Aide | Sophia Santi |
| Latino Waiter | Minor Terraza |
| Father T | Jesse Socorro Montes |
| Wife | Kate Connor |
| Husband | Andy Hirsch |
| On Looker #1 | Abe Martell |
| On Looker #2 | Brandon Matthew Parker |
| On Looker #3 | Jonathan Kagan |
| Aqua Therapist | Oscar Gallardo |
| Baptiste | William Simmons |
| Support Group Leader | Kevin Hostomsk |
| Support Group Woman | Elaine Kagan |
| Support Group Girl | Sarah Nicole Robles |
| Support Group Man | Patrick J Nicholas |
| Producer | Noah Craft |
| Young Mark | Logan Schaeffer |
| Mark's Mother Esther | Christie Burson |
| Waiter | Demetrius Navarro |
Stunt Coordinator
Matthew Anderson
Production Supervisor
Jason Furrer
Production Coordinator
Kim Carney
Script Supervisors
Amanda Griswold
Genie Babcock
Set Production Assistants
Andrew Sitter
Gabriela Gil
A Camera Operators
Diana Eliazov
Gareth Paul Cox
B Camera Operator
Jonathan Bruno
Steadicam Operators
Erdam Ertal
Jerry Franck
1st Assistant Camera
Asia Heredia
Alan Chavarria
2nd Assistant Camera
Evan Butka
Jonathan Medina
Additional 1st ACs
Geoff Goodloe
Melanie Kobran
Michael Berg
Jonathan Park
Megan Boundy
Additional 2nd AC
Edward Bellamy
Remote Tech Head Chris DeFranco
Stills Photographer Karen Steyr Randolph
Digital Imaging Technician Lyndel Crosley
Gaffer Joe Petkwitz
Best Boy Electric Alex Ojeda
Electrician Spike Osorio
Additional Electricians Blake Armstrong
David Kitchner
Alex Laber
Benjamin Cumming
Salvador Chachu
Genevieve Evans
Gregory L. Loebell
Emmanuel Peredia
Key Grip
Danny Sosa
Best Boy Grip
John Paul Bennett
Additional Best Boy Grip
Andy Weiss
Dolly Grip
Adam X. Beffa
Grip
Carlos Chavez
Additional Grips
Darrin Stuckwisch
Phillip Collins
Lugi Cortez
Ben Goldberg
Ray Chatman
Rob Richards
Jonathan Shrader
Aaron Stinde
Keenan Kusnierczyk
Sergio Castillo
Chelsea Clark James
Michael DeLavallade
Michael Gray
Derick Holub
Alexandre Nunez
Aaron Pong
Luis Santos
Dimitrios Christofordis
Sham Keston-Nix
Christopher Wess
Anthony Caldwell
Craft Service
Ian Kronenberg
Set Medic
Adam Lem
Tobin Hale
Set Decorator
Ari Alizio
Lead Man
Steven Manganaro
Plaster Foreman
Matthew Fuchs
Paint Boss
Ross Anderson
Construction
Joseph S. Ferullo
Builder
Rod Walton
Art PAs
Jordan Blake
Dayton Castleman
Ian McPherson
James Rodenhouse
Phillip Steiger
Production Illustrator
Ed Verreaux
Storyboard Artist
Dwight Hwang
Prop Master
Anthony Cafaro
Master Armorer
Mike Tristano
On-Set Armorer
Clay Van Sickle
Props PA
Jose Chew
Additional Props PA
Kophns Martinez
Meagan Sherchock
Wardrobe Supervisor
Margaret Robbs
Key Costumer
Kaitlin Weichsel
Costumer
Benett Rogers
Alexandria Montague
Wardrobe PAs
Kayla Tange
Alejandra Martinez
Makeup & Hair Dept. Head
Galaxy San Juan
Key Makeup & Hair
Chelsea Orduno
Makeup Artist
Catalina Cacho
Emily Rae Hilgenberg
Makeup Assistants
Tracy C. Gross
Harmony Swink
Heather Galipo
Hair Stylist
Voneva Denham
Rene Maldonado Cortez
Sound Mixer
Gabriel Fragoso
Boom Operator
Spencer Flynn
Additional Boom Op
Jacques Renar
Location Manager
Hector Tinoco
Locations Assistant
Carlos Hernandez
Police Officers
George Aguilar
Steven Dell
Wayne J. Morris
Derek R. Mousseau
Robert Smith
Kelsey Juddo
Ricardo Soto
Eugene J. Damiano
Transportation Coordinator
Matt Ballard
Transportation Captain
Julius Fletcher
Drivers
Russell Bullard
Fred Contreras
Yvonne Farano
Casting Associate
Adam Richards
Background Casting
Rich King
Set Production Assistants
Andrew Sitter
Gabriela Gil
Justin Rausch
Additional PAs
Deborah Etta Robinson
Ryan Gilbert
Eric Wiseman
Amanda Holmgren
Daniel Kane
Alex Overlock
Production Office Intern
Jeff Ledge
Social Media Intern
Ozcar Chagolla
Set Interns
Corey Vent
Kristen Politis
Topher Wright
Studio Teacher
Artemisa Gutierrez Laurence
Guy Flint
ER Advisor
Sharon Braun
EMT Advisor
Martin Blount
Production Attorney
Jennifer Hughes
Digital Intermediate by TUNNEL POST
DI Producers
Alan Pao
Heather Toll
DI Colorist
Sebastian Perez-Burchard
DI Editor
J.D. Moore
Titles by
Satsuki May Asai
Assistant Editor
Andrew Cohen
Liam Johnson
VFX Artists
David Kashevaroff
Daniel Revkin
Additional Visual Effects
Mammal Studios
Mark's Vision Designers
Joshua Masters
Hoda
Austin Allen
Sound Designers
Jan Bezouska
Peter Bawiec
Post Production Sound Provided by Private Island Audio
Supervising Sound Editor
Michael J. McDonald
Dialogue Editors
Joseph R. De Guzman
Jason "Jay" Milversted
Sean Baker
ADR Recordist
Ray Quintana
Walla
The Loopy People
Foley Editor
Ray Quintana
Foley Recordist
Ray Quintana
Brahm Patel
Foley Artist
Josh Murphy
Ryne Howard
Vincent Deng
Foley Recording Mixer
Michael J. McDonald
Mix Assembler
Michael J. McDonald
Re-Recording Mixer
Michael J. McDonald
Post Audio Booking
Patty Ramirez
Audio Post Administration
Robyn Whitney
"Off Jump"
Written by : Marc Ferrari, Nate Donmoye,Roshmond Doran Patten
Courtesy of FirstCom Music
"La Gozadera"
Written by: Antonio Garcia Isaac,
Bernardo Sanchez Bucio
Courtesy of FirstCom Music
"Melancholy Swing"
Written and Performed by Jake Bluenots
"Stormy Monday"
Written by Aaron Walker
Performed by T-Bone Walker
Courtesy of Geffen Records under license From Universal Music Enterprises
"Lujo"
Written by: Frederick Leonel Mendez,Jonaty Garcia, Josh Kessler, Marc Ferrari
Courtesy of FirstCom Music
"You Broke My Heart"
Written by: David Sparkman,
Jamie Dunlap, Scott Nickoley
Courtesy of FirstCom Music
"Latina"
Written by Robert J Walsh
Courtesy of Firstcom Music
"Love Provides"
Music by Bruce Broughton
Lyrics by Jeremy Kagan
Performed by Johnny Hawhtorn
Western footage from the film "Leave 'Em Hangin'" courtesy of David Higgins
Action Paintings by Matt Elson
Marketing / Public Relations: The Visioneering Group
Payroll Services Provided by
ABS Payroll & Production Accounting Services
Payroll Coordinator: Justin Gourlay
Catering Provided by D&R Catering
Weapons Provided by Mike Tristano & Company
Thanks to
USC School of Cinematic Arts
Private Island Audio
Los Angeles Parks and Recreation
FilmLA
LAC/USC Hospital
Screen Actors Guild - Lorna Badeo
LA Mill Coffee
St. Mary's Church
Square One Dining
LA Center Studios - Ken Johnson
MakerCity LA - Teresa Garcia
Directors Guild of America
Momentous Insurance Brokerage
Radiant Images
Entertainment Industry Physicians
NBC Universal Costume Department
Western Costume
Costume Rentals Corporation
Milt & Edie's Drycleaners & Tailoring Center
ABC/ Costume Department
Warner Brothers/ Costume Department
Chapman-Leonard
JL Fisher
24 Frame
The Expendables Recycler
Silly Monkey
Hey What's Your Face
Illumination Dynamics
KINO FLO
McIntyre House
Cinema Vehicle Services
Studio Picture Vehicles
Quixote Studios
ISS (Independent Studio Services)
Hand Prop Room
Alpha Medical Props
A1 Medica
Audio Department
Black Sheep Transportation
Hollywood Honeywagon
Studio Services
AVON
Arthur Albert
Jane Baumgarten
Laurence Becsey
Bill Bennett
Alber Berger
Cynthia Bir, PhD
Jessica Blank
Martin Blout
Jake Bluenote
Jeff Bolton
Carl Borack
Greg Boyle
David Bridel
Kevin Brodie
Peter Broderick
Rabbi Yonah Brookstein
George Chamchoum
Roi Choi
Isadora Clintron
Sean Covel
Mack Culkin
Frank Daniel
Raymond de Fellitta
Jeff Dowd
Steve Drimmer
Griffin Dunne
Claudia Elmore
Mike Fink
Matt Fishburn
Jeffrey Fiskin
Raphael Ganchegui
Avi Glick
Veronica Gomez
Julie McLaughlin Gray
Daniel Gross
Allan Hamilton, M.D.
Christie Hall
Bernard Harcourt
Christopher Hawthorn
James Huddleston
Goran Ivanovski
Jane Jenkins
Omar Kaczmarczyk
Ginnie Kagan
Sarah Kirwan
Harry Knapp
Jim Kotos
Mark Legrand
Shawn Levy
Demian Lichtenstein
Josefina Lopez
Tony LoRe
Michael Mansouri
Stuart Margolin
Ted Martland
Chase Masterson
Zachary Matz
Bill Megalos
Larry Mortoff
Syrous Nabatian
Mike Nagle
Edward James Newton, M.D.
Chantal Nchako
Geoff Oblath
Erika Olmos
Johnny Oritz
Marcy Patterson
Michael Patterson
Merik Martin Pelletier
Michael Peyser
Frank Pierson
Julia Ransom
Rabbi Steven Robbins
Howard A. Rodman
Phil Rodriguez
Dr. Sanford Rosenberg
Alex Rotaru
Ari Sandel
Marvin Schwartz
Roya Semnanian
Paul Silka, M.D.
Bradley Solomon
Abby Spangler
Pierre Spengler
Gordon Starr
Beth Stevens
Jodi Strong
Thomas Trenker
Larry Turman
Meta Valentic
Felipe Vargas
Ruth Vitale
Rodrigo Villalta
Xu Zhang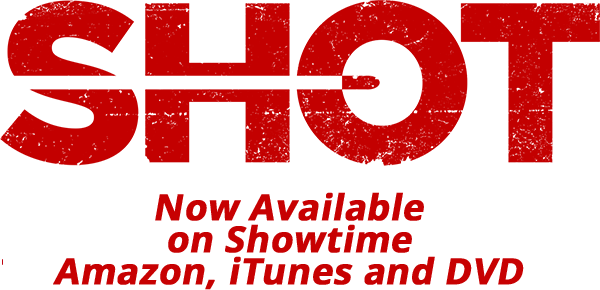 Transformative Media
and
Great Point Media
In Association with
Outside The Box Motion Pictures
and
Deliberate Content
present
SHOT
Directed and Produced by
Jeremy Kagan
CAST
MARK - Noah Wyle
PHOEBE - Sharon Leal
MIGUEL - Jorge Lendeborg, Jr.
DOCTOR ROBERTS - Xander Berkeley
NURSE MARCI - Elaine Hendrix
EMT TURNER - Malcolm-Jamal Warner
Screenplay by
William Lamborn
Anneke Campbell
Story by Jeremy Kagan
Produced by
Dave O'Brien, p.g.a
Josh Siegel, p.g.a.
Executive Producer
Noah Wyle
Jonathan Kagan
Anneke Campbell
Robert Halmi
Jonathan Kagan
Jim Reeve
Kurt Fethke
Alan Pao
Jerry Offsay
A FILM BY JEREMY KAGAN
Starring:
Noah Wyle
Sharon Leal
Jorge Lendeborg, Jr.
Xander Berkeley
Elaine Hendrix
Joy Osmanski
Eve Kagan
Malcolm-Jamal Warner
Dominic Colon
Tommy Day Carey
Rafael Cebrian
Brad Lee Wind
Casting by Kerry Barden and Paul Schnee
Director of Photography
Jacek Laskus, ASC
Production Designer
Chuck Parker
Editor
Norman Hollyn, ACE
Composer
Bruce Broughton
Executive Music Producer
Joel Sill
Line Producer
Ric Smith
Co - Producer
John Raatz
First Assistant Director Billy Greenfield
Second Assistant Director Josh Stickler
Second Second AD Anneke Scott & Amanda Carrara
| | |
| --- | --- |
| Mark | Noah Wyle |
| Phoebe | Sharon Leal |
| Miguel | Jorge Lendeborg, Jr. |
| Nurse Gina | Eve Kagan |
| Nurse Samantha | Joy Osmanski |
| Nurse Marci | Elaine Hendrix |
| Dr. Roberts | Xander Berkeley |
| Dr. Fisher | Sarah Clarke |
| EMT Jones | Malcolm-Jamal Warner |
| EMT Garcia | Domonic Colon |
| EMT Turner | Tommy Day Carey |
| Dr. Schiabarassi | Peter Banifaz |
| Officer Anderson | Brad Lee Wind |
| Officer Ramirez | Maria Russell |
| Anita | Cher Ferreyra |
| Juan | Rafael Cebrian |
| Jose | Peter Cortes |
| Rosa | Veronica Sixtos |
| Latino Youth | Mario Orozco |
| XRay Tech | John Ciccolini |
| Cat Scan Tech | Chris Copolla |
| Accounting Aide | Sophia Santi |
| Latino Waiter | Minor Terraza |
| Father T | Jesse Socorro Montes |
| Wife | Kate Connor |
| Husband | Andy Hirsch |
| On Looker #1 | Abe Martell |
| On Looker #2 | Brandon Matthew Parker |
| On Looker #3 | Jonathan Kagan |
| Aqua Therapist | Oscar Gallardo |
| Baptiste | William Simmons |
| Support Group Leader | Kevin Hostomsk |
| Support Group Woman | Elaine Kagan |
| Support Group Girl | Sarah Nicole Robles |
| Support Group Man | Patrick J Nicholas |
| Producer | Noah Craft |
| Young Mark | Logan Schaeffer |
| Mark's Mother Esther | Christie Burson |
| Waiter | Demetrius Navarro |
Stunt Coordinator
Matthew Anderson
Production Supervisor
Jason Furrer
Production Coordinator
Kim Carney
Script Supervisors
Amanda Griswold
Genie Babcock
Set Production Assistants
Andrew Sitter
Gabriela Gil
A Camera Operators
Diana Eliazov
Gareth Paul Cox
B Camera Operator
Jonathan Bruno
Steadicam Operators
Erdam Ertal
Jerry Franck
1st Assistant Camera
Asia Heredia
Alan Chavarria
2nd Assistant Camera
Evan Butka
Jonathan Medina
Additional 1st ACs
Geoff Goodloe
Melanie Kobran
Michael Berg
Jonathan Park
Megan Boundy
Additional 2nd AC
Edward Bellamy
Remote Tech Head Chris DeFranco
Stills Photographer Karen Steyr Randolph
Digital Imaging Technician Lyndel Crosley
Gaffer Joe Petkwitz
Best Boy Electric Alex Ojeda
Electrician Spike Osorio
Additional Electricians Blake Armstrong
David Kitchner
Alex Laber
Benjamin Cumming
Salvador Chachu
Genevieve Evans
Gregory L. Loebell
Emmanuel Peredia
Key Grip
Danny Sosa
Best Boy Grip
John Paul Bennett
Additional Best Boy Grip
Andy Weiss
Dolly Grip
Adam X. Beffa
Grip
Carlos Chavez
Additional Grips
Darrin Stuckwisch
Phillip Collins
Lugi Cortez
Ben Goldberg
Ray Chatman
Rob Richards
Jonathan Shrader
Aaron Stinde
Keenan Kusnierczyk
Sergio Castillo
Chelsea Clark James
Michael DeLavallade
Michael Gray
Derick Holub
Alexandre Nunez
Aaron Pong
Luis Santos
Dimitrios Christofordis
Sham Keston-Nix
Christopher Wess
Anthony Caldwell
Craft Service
Ian Kronenberg
Set Medic
Adam Lem
Tobin Hale
Set Decorator
Ari Alizio
Lead Man
Steven Manganaro
Plaster Foreman
Matthew Fuchs
Paint Boss
Ross Anderson
Construction
Joseph S. Ferullo
Builder
Rod Walton
Art PAs
Jordan Blake
Dayton Castleman
Ian McPherson
James Rodenhouse
Phillip Steiger
Production Illustrator
Ed Verreaux
Storyboard Artist
Dwight Hwang
Prop Master
Anthony Cafaro
Master Armorer
Mike Tristano
On-Set Armorer
Clay Van Sickle
Props PA
Jose Chew
Additional Props PA
Kophns Martinez
Meagan Sherchock
Wardrobe Supervisor
Margaret Robbs
Key Costumer
Kaitlin Weichsel
Costumer
Benett Rogers
Alexandria Montague
Wardrobe PAs
Kayla Tange
Alejandra Martinez
Makeup & Hair Dept. Head
Galaxy San Juan
Key Makeup & Hair
Chelsea Orduno
Makeup Artist
Catalina Cacho
Emily Rae Hilgenberg
Makeup Assistants
Tracy C. Gross
Harmony Swink
Heather Galipo
Hair Stylist
Voneva Denham
Rene Maldonado Cortez
Sound Mixer
Gabriel Fragoso
Boom Operator
Spencer Flynn
Additional Boom Op
Jacques Renar
Location Manager
Hector Tinoco
Locations Assistant
Carlos Hernandez
Police Officers
George Aguilar
Steven Dell
Wayne J. Morris
Derek R. Mousseau
Robert Smith
Kelsey Juddo
Ricardo Soto
Eugene J. Damiano
Transportation Coordinator
Matt Ballard
Transportation Captain
Julius Fletcher
Drivers
Russell Bullard
Fred Contreras
Yvonne Farano
Casting Associate
Adam Richards
Background Casting
Rich King
Set Production Assistants
Andrew Sitter
Gabriela Gil
Justin Rausch
Additional PAs
Deborah Etta Robinson
Ryan Gilbert
Eric Wiseman
Amanda Holmgren
Daniel Kane
Alex Overlock
Production Office Intern
Jeff Ledge
Social Media Intern
Ozcar Chagolla
Set Interns
Corey Vent
Kristen Politis
Topher Wright
Studio Teacher
Artemisa Gutierrez Laurence
Guy Flint
ER Advisor
Sharon Braun
EMT Advisor
Martin Blount
Production Attorney
Jennifer Hughes
Digital Intermediate by TUNNEL POST
DI Producers
Alan Pao
Heather Toll
DI Colorist
Sebastian Perez-Burchard
DI Editor
J.D. Moore
Titles by
Satsuki May Asai
Assistant Editor
Andrew Cohen
Liam Johnson
VFX Artists
David Kashevaroff
Daniel Revkin
Additional Visual Effects
Mammal Studios
Mark's Vision Designers
Joshua Masters
Hoda
Austin Allen
Sound Designers
Jan Bezouska
Peter Bawiec
Post Production Sound Provided by Private Island Audio
Supervising Sound Editor
Michael J. McDonald
Dialogue Editors
Joseph R. De Guzman
Jason "Jay" Milversted
Sean Baker
ADR Recordist
Ray Quintana
Walla
The Loopy People
Foley Editor
Ray Quintana
Foley Recordist
Ray Quintana
Brahm Patel
Foley Artist
Josh Murphy
Ryne Howard
Vincent Deng
Foley Recording Mixer
Michael J. McDonald
Mix Assembler
Michael J. McDonald
Re-Recording Mixer
Michael J. McDonald
Post Audio Booking
Patty Ramirez
Audio Post Administration
Robyn Whitney
"Off Jump"
Written by : Marc Ferrari, Nate Donmoye,Roshmond Doran Patten
Courtesy of FirstCom Music
"La Gozadera"
Written by: Antonio Garcia Isaac,
Bernardo Sanchez Bucio
Courtesy of FirstCom Music
"Melancholy Swing"
Written and Performed by Jake Bluenots
"Stormy Monday"
Written by Aaron Walker
Performed by T-Bone Walker
Courtesy of Geffen Records under license From Universal Music Enterprises
"Lujo"
Written by: Frederick Leonel Mendez,Jonaty Garcia, Josh Kessler, Marc Ferrari
Courtesy of FirstCom Music
"You Broke My Heart"
Written by: David Sparkman,
Jamie Dunlap, Scott Nickoley
Courtesy of FirstCom Music
"Latina"
Written by Robert J Walsh
Courtesy of Firstcom Music
"Love Provides"
Music by Bruce Broughton
Lyrics by Jeremy Kagan
Performed by Johnny Hawhtorn
Western footage from the film "Leave 'Em Hangin'" courtesy of David Higgins
Action Paintings by Matt Elson
Marketing / Public Relations: The Visioneering Group
Payroll Services Provided by
ABS Payroll & Production Accounting Services
Payroll Coordinator: Justin Gourlay
Catering Provided by D&R Catering
Weapons Provided by Mike Tristano & Company
Thanks to
USC School of Cinematic Arts
Private Island Audio
Los Angeles Parks and Recreation
FilmLA
LAC/USC Hospital
Screen Actors Guild - Lorna Badeo
LA Mill Coffee
St. Mary's Church
Square One Dining
LA Center Studios - Ken Johnson
MakerCity LA - Teresa Garcia
Directors Guild of America
Momentous Insurance Brokerage
Radiant Images
Entertainment Industry Physicians
NBC Universal Costume Department
Western Costume
Costume Rentals Corporation
Milt & Edie's Drycleaners & Tailoring Center
ABC/ Costume Department
Warner Brothers/ Costume Department
Chapman-Leonard
JL Fisher
24 Frame
The Expendables Recycler
Silly Monkey
Hey What's Your Face
Illumination Dynamics
KINO FLO
McIntyre House
Cinema Vehicle Services
Studio Picture Vehicles
Quixote Studios
ISS (Independent Studio Services)
Hand Prop Room
Alpha Medical Props
A1 Medica
Audio Department
Black Sheep Transportation
Hollywood Honeywagon
Studio Services
AVON
Arthur Albert
Jane Baumgarten
Laurence Becsey
Bill Bennett
Alber Berger
Cynthia Bir, PhD
Jessica Blank
Martin Blout
Jake Bluenote
Jeff Bolton
Carl Borack
Greg Boyle
David Bridel
Kevin Brodie
Peter Broderick
Rabbi Yonah Brookstein
George Chamchoum
Roi Choi
Isadora Clintron
Sean Covel
Mack Culkin
Frank Daniel
Raymond de Fellitta
Jeff Dowd
Steve Drimmer
Griffin Dunne
Claudia Elmore
Mike Fink
Matt Fishburn
Jeffrey Fiskin
Raphael Ganchegui
Avi Glick
Veronica Gomez
Julie McLaughlin Gray
Daniel Gross
Allan Hamilton, M.D.
Christie Hall
Bernard Harcourt
Christopher Hawthorn
James Huddleston
Goran Ivanovski
Jane Jenkins
Omar Kaczmarczyk
Ginnie Kagan
Sarah Kirwan
Harry Knapp
Jim Kotos
Mark Legrand
Shawn Levy
Demian Lichtenstein
Josefina Lopez
Tony LoRe
Michael Mansouri
Stuart Margolin
Ted Martland
Chase Masterson
Zachary Matz
Bill Megalos
Larry Mortoff
Syrous Nabatian
Mike Nagle
Edward James Newton, M.D.
Chantal Nchako
Geoff Oblath
Erika Olmos
Johnny Oritz
Marcy Patterson
Michael Patterson
Merik Martin Pelletier
Michael Peyser
Frank Pierson
Julia Ransom
Rabbi Steven Robbins
Howard A. Rodman
Phil Rodriguez
Dr. Sanford Rosenberg
Alex Rotaru
Ari Sandel
Marvin Schwartz
Roya Semnanian
Paul Silka, M.D.
Bradley Solomon
Abby Spangler
Pierre Spengler
Gordon Starr
Beth Stevens
Jodi Strong
Thomas Trenker
Larry Turman
Meta Valentic
Felipe Vargas
Ruth Vitale
Rodrigo Villalta
Xu Zhang